20
September 2018
Roof Flashing
Some of the roof's most vulnerable areas, with the highest potential for leaks include skylights,  vents, chimneys,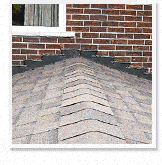 windows, and soil stacks, making waterproofing indispensable.
Once again, ice and water membrane is a superb base underlayment for the flashing material.
And don't forget to use roofing cements that meet or surpass CAN, CGSB or ASTM standards that are fully compatible with the shingle.